Parents for Transgender Equality National Council
DOWNLOAD: Navigating Transition-Related Care: A Guide for Parents and Guardians of Gender-Expansive Children and Teens
DOWNLOAD: Going Public: Is Public Advocacy Right for You and Your Family? A Guide for Parents of Transgender and Gender-Expansive Youth
DOWNLOAD: Supporting & Caring for Transgender Youth
DOWNLOAD: Non-Binary, Gender Fluid & Gender-Expansive Youth: FAQ for Parents & Guardians
Click here to add your name to our growing list of parent advocates
*Please note that any information provided will NOT be used in any public capacity without your consent.
Meet our Parents for Transgender Equality National Council members:
Mehereen Baig
Mahereen Baig is a mother to three boys, ages 20, 17 and 14, with the two eldest being cisgender and the youngest being transgender. As an immigrant from Pakistan, Mahereen came to the United States at four-years-old and was raised in a conservative, traditional Muslim family. While in college she broke a cultural norm by marrying outside of her customs and nationality to an American convert to Islam. She and her ex-husband raised their children in the folds of a loving, Islamic household and despite the end of a 25 year marriage, continue to co-parent together, alongside Mahereen's new family. They are united as strong advocates for all of their boys regardless of their children's beliefs and self-identity. It has not been the easiest journey for her to face abandonment and rejection from some members of her family, but armed with constant education and an open heart, she fiercely shields her sons from facing the same challenges.

Mahereen is an educator of 26 years at the elementary level. She earned a Bachelor of Science in Education and a Master of Literacy with a specialty in Bilingual Literacy. Within her district, she is currently working to bring an LGBTQIA curriculum to classrooms ranging from elementary to high school. She is also a leading advocate in educating and helping newcomers from around the world better understand how to navigate and function within the U.S. school system. She reaches out to new immigrant families in the community and works with them to acclimate them comfortably into setting up a successful foundation for education. She is a union representative at the school level which allows her to bridge the common understanding between staff and administration.

Although Mahereen is fairly new to the news of her son coming out to their family, she is well versed in unconditional acceptance in diversity and outspoken within the Islamic community.

Stephen Chukumba
Stephen Chukumba is a single father of four children, Asha Ming, Chima, Duran and Nokosi. One of Stephen's children identifies as a transgender boy and since his son's coming out, Stephen has made it his mission to disabuse the world of its ignorance and intolerance of LGBTQ people and the issues they face.

Stephen is a scrum master at Capital One, where he is an active member of several business resource groups devoted to assisting the members of minority and disenfranchised groups.

As a member of the Human Rights Campaign's Parents for Transgender Equality Council, PFLAG and GLAAD, Stephen leverages his membership in these powerful advocacy platforms to speak and educate about the unique challenges faced by people of color raising transgender youth.
Luchina Fisher and David J. Parr
Luchina is an award-winning writer and filmmaker, whose upcoming documentary Mama Gloria is about a trailblazing 73-year-old Black transgender woman who started a charm school for homeless trans youth. David is an award-winning clinical psychologist who implemented and currently oversees the nation's first Female Integrated Treatment facility for the Federal Bureau of Prisons, where he has worked for nearly two decades. Together, they are the proud parents of Gia, Luc and Mateo.

When Gia transitioned at the start of eighth grade in their small town in Connecticut, the family wrote a "coming out" letter to all the middle school students and their parents. The overwhelmingly supportive response from the entire community led the family to take their positive story public through the national storytelling campaign, The GenderCool Project, which aims to show who trans youth are, not what they are. Luchina penned a first-person essay for Good Morning America and the family's story has since been featured on Megyn Kelly Today, The New York Times, People and CBS This Morning. Now 16, Gia is a HRC Youth Ambassador, GenderCool Project Champion and one of The Advocate's 2019 Champions of Pride. She was featured in Gap's 2019 Pride campaign and was featured in the season 2 finale of Pose.
Michelle Honda
Michelle Honda is the mother of a 10-year-old transgender daughter, and eight- and 11-year-old cisgender sons. Michelle focuses much of her time advocating for transgender and gender non-conforming youth ultimately promoting awareness, establishing resources and supporting the community with unconditional love and acceptance to those who are beginning to find their voice and living authentically. She has spoken at events such as The Association of LGBT Journalists Media Summit, the Bay Area Municipal Elections Committee (BAYMEC) Annual Gala, Las Vegas Genderfest, and nationwide family acceptance workshops for the National Queer Asian Pacific Islander Alliance (NQAPIA). Her family's journey has also been featured on the NBC Nightly News, The Today Show, the Human Rights Campaign, and a feature article in Elle France magazine.
Debi Jackson
Debi and Tom Jackson are raising their two children in Kansas City, Missouri. Debi became an advocate for transgender rights in 2014 when her speech about her daughter's transition at the age of 4 went viral. The self-described "conservative Southern Baptist Republican from Alabama" now speaks on behalf of transgender children and their families around the world. She has been interviewed by media across the US, the UK, France, Greece, Russia, Ukraine, South Africa, Colombia and Brazil.
Debi has developed relationships with many LGBTQ organizations, including the Human Rights Campaign, National Center for Transgender Equality, National Center for Lesbian Rights, PFLAG, the American Civil Liberties Union, and Trevor Project, learning all she can about issues the trans community faces in order to be the best possible advocate. That extensive knowledge has lead to her being sought out by government agencies as well. Debi has spoken at conferences presented by the White House and Department of Health & Human Services, given Transgender 101 and Transgender Health presentations at the Consulate of Mexico, frequently speaks with delegates visiting the US as part of the International Visitor Leadership Program sponsored by the Department of State, and helps conduct trainings for law enforcement through the Department of Justice.
Debi was awarded the 2016 NEA GLBT Caucus Role Model Award for her contributions to education about the LGBTQ+ community. She trains schools across the US on creating trans-inclusive policies and how to best support students through their transitions. She serves as a board member for the Los Angeles Gender Center and SAVE, Inc. in Kansas City.
Her daughter, Avery, has also told her own story in a children's book, "It's Okay to Sparkle" and was featured on a cover of the "Gender Revolution" issue of National Geographic magazine.
Yma Johnson
Yma Johnson is the proud mother of Seti, her 19-year-old non-binary child. She is also a board member for Stand with Trans, an organization that provides free support groups and resources to trans youth and their families throughout southeast Michigan and in the San Francisco Bay Area. Yma is from Ann Arbor, MI and co-founded that city's Stand with Trans support group.

She considers it a privilege to support her child as they move fluidly across and through their varied and beautiful gender expressions. She wants every transgender, gender non-conforming and gender creative child to have the benefit of a safe, supportive home and loving community.

Yma has a master's degree in creative writing from Eastern Michigan University and a bachelor's in psychology from the University of Michigan. She has participated in diversity, equity and inclusion initiatives at multiple organizations and is a staunch ally for the LGBTQ community. Over the course of two decades, Yma has championed social justice causes, including environmental protection, women's rights, equitable health care access and inmate rights. She currently sits on several boards, steering committees and task forces.
Jodie Patterson
Jodie Patterson is a social activist and author, who's been lauded for her work globally. She holds the position of Chair of the Board of the Human Rights Campaign Foundation, as well as Advisor to the Ackerman Institute's Gender & Family Project, and to Mount Sinai Hospital's transgender health center. She was appointed by the United Nations as a Champion of Change and currently lives in Brooklyn, New York, where she raises her five children with love, education, and family solidarity.
Mimi and Joe Lemay
Mimi Lemay is an international advocate for transgender youth, and the proud parent of a 9-year-old transgender son, Jacob. She began her advocacy shortly after the transition of her son from assigned female to affirmed male at the age of four, when an essay she wrote about the experience went viral (
A Letter to my Son Jacob on His 5th Birthday
, Boston.com) The Lemays went on to participate in an NBC Nightly News segment entitled:
Jacob's Journey: Life as a Transgender 5-Year-Old
which was viewed by nearly 40 million people worldwide and launched an international discussion on gender identity in very young children. They have since appeared in interviews on CBS News, MSNBC, NPR, Agence France Presse and the Boston Globe among other outlets.
The Lemay family, oldest to youngest, continues to advocate for transgender equality, and they fought for the successful passage of an equal access public accommodations law in Massachusetts, which passed into law in July 2016. They believe that the key to securing equality and safety for Jacob and other gender non-conforming children is by sharing their story and increasing understanding. To that end, Mimi has written a memoir,
What We Will Become
, which weaves her own experiences growing up in, and ultimately leaving, her strict Ultra-Orthodox Jewish community, and her adult life parenting a trans child. It is due to be released by Houghton Mifflin Harcourt in November 2019. Mimi holds a BA in U.S.-Iranian Relations from Boston University and a Masters in Law & Diplomacy from the Fletcher School of Law & Diplomacy at Tufts University.
Rachel and Frank Gonzales
Frank and Rachel Gonzales have been fiercely advocating for the transgender community since their daughter, Libby, transitioned. Their efforts have been amplified significantly over the last year as the Texas legislature attempted to attack and discriminate against trans youth with several bills. They have testified several times at the Texas Capitol, spoken at rallies and protests, and held a media presence in the fight for equality for transgender Texans.
As the parents of a trangsender child, equality for LGBTQ youth is their passion. Rachel is the Education and Resource Coordinator for Equality Texas. She is delighted to be able to pair her passion with her background in cultural applied anthropology to advocate for the equal treatment of LGBTQ youth, providing support for families to be their own best advocates. Frank and Rachel are active members of DFW Trans Kids and Families.
Keisha and Sean Michaels
Keisha and Sean Michaels are the parents of two children and live in suburban Maryland. Both originally from Massachusetts, they met while attending the same HBCU and have since enjoyed the Mid-Atlantic region for most of their adulthood. Keisha practices medicine full-time and is an avid reader. She co-moderates a Facebook physician group that supports parents of children who identify as LGBTQI. Sean is an entrepeneur and stock market trader.
Keisha and Sean are the parents of a transgender child, and have committed to helping other families love and accept their children and family members who are gender atypical.
Ashley Rhodes-Courter and Erick Smith
Advocacy is nothing new to Ashley Rhodes-Courter, MSW, and Erick Smith. For five intense years, Ashley and Erick served as foster parents to more than 25 children. Their eldest daughter, Skyler (AMAB), was adopted from foster care. Ashley spent nearly a decade in foster care herself as a child. Her adverse experiences inspired her to become an advocate and social worker. Today, Ashley and Erick are the proud parents of three young children, and are the founders of The Foundation for Sustainable Families. Their non-profit provides direct services to children and families, and works collaboratively with other organizations to meet the needs of the most vulnerable. Ashley is also the New York Times and International Bestselling author of the books Three Little Words and Three More Words. Read more on her website.
Jennifer Solomon
Jennifer and her husband, Jeffrey Solomon, live in Miami along with their four children, two of whom are part of the LGBTQ community. Their oldest daughter just celebrated her second wedding anniversary with her beautiful wife. Cooper is the youngest and identifies as gender non-conforming. While his gender identity is male, his gender expression is fabulously female.

A pediatric registered nurse by profession, Jennifer chooses to spend her time advocating for all LGBTQ youth to live safe and healthy lives as their authentic selves.

She is the founder and president of PFLAG South Miami Chapter. She has created a safe space for families to gather, receive support, give advice and become allies for their loved ones.

For the last five years Jennifer has been a member of Miami Dade County Public Schools (MDCPS) LGBTQ Safe School Advisory Council, where she works with local organizations to provide the superintendent and school board members tools and guidance to ensure the school environment is a safe place for learning. She also serves on the MDCPS Student Services Advisory Committee.

While in kindergarten, Cooper and Jennifer presented a proposal to the school board to implement HRC's Welcoming Schools curriculum and were successful in getting the fourth-largest school district to incorporate diversity education into their schools.

Jennifer is an outspoken ally on the local and state level as a speaker for organizations such as Equality Florida and the YES institute. As a strong advocate, she has testified in Tallahassee TN against anti-LGBTQ bills and at the Miami Dade Commission fighting to protect LGBTQ youth from so-called "conversion therapy." Her family's journey of raising a gender non-conforming child has been featured in the Miami New Times as well as a segment on NBC and NPR.

Sharing her family's experience with raising a child who redefines what it means to be a boy will hopefully help educate others and make the world a kinder, gentler place for all children.
Joy Wilson
Joy Wilson is the proud mother of two daughters, Piper and Ella. Her youngest child, Ella transitioned at the age of 8. In an effort to destigmatize trans youth, her family put out a video with Basic Rights Oregon that was showcased at TEDx Portland. Joy has been an outspoken ally and advocate, whether in meetings with public school officials, speaking at press conferences, or doing interviews with news media. In addition to casual one-on-one advocacy, Joy has spoken in more formal settings, such as a panelist for the Oregon Council of Child & Adolescent Psychiatry conference as well as for 1st & 2nd year med students at Oregon Health & Science University, all to help educate and advocate for meeting the needs of transgender youth.
Oregon Attorney General, Ellen Rosenblum invited Joy to address the 2017 Democratic Attorneys General Association conference to compel them to continue the fight for trans justice in DC. Having successfully lobbied for changes to discriminatory, dangerous, and transphobic policies in Oregon, Joy and her daughters were invited to attend Governor Kate Brown's official signing of Oregon's first standalone transgender equality bill, House Bill 2673. Joy is an active member of Basic Rights Oregon, and serves as a founding member and the Chair of Fierce Families, a network fighting for transgender youth in Oregon. Joy's daughter, Ella, was lovingly mentioned in Anne Hathaway's touching acceptance speech as the recipient of HRC's 2018 National Equality Award.
Priya Shah and Jaspret Brar
Jaspret and Priya are the proud parents of two elementary-age daughters, one transgender and one cisgender. Priya has been teaching Gender and Sexuality Studies for over ten years and has gained insight and wisdom from her transgender and gender non-conforming students. When their daughter began her transition, Priya and Jaspret realized that they needed to learn more about affirmative parenting of a transgender child and became very involved with the LGBTQ+ community in Orange County, CA. With the help of many incredible individuals and advocates in the community, Jaspret and Priya began the journey of educating themselves and their own communities. Priya has been very active in working with her school district to fully implement AB 1266, the Student Success and Opportunity Act, that mandates training on gender identity for school staff and ensures that transgender students are referred to by their preferred name and pronouns, and are able to use the restroom that accords with their gender identity. Priya is on the Board of Directors for Orange County Equality Coalition (OCEC) and has put together a number of education panels, worked with school districts, spoken at various board meetings, as well as put on an inclusive book fair that featured stories about children of all kinds. Priya is also a member of Youth First OC, which supports comprehensive and age-appropriate sexual education for all students regardless of gender identity or sexual orientation.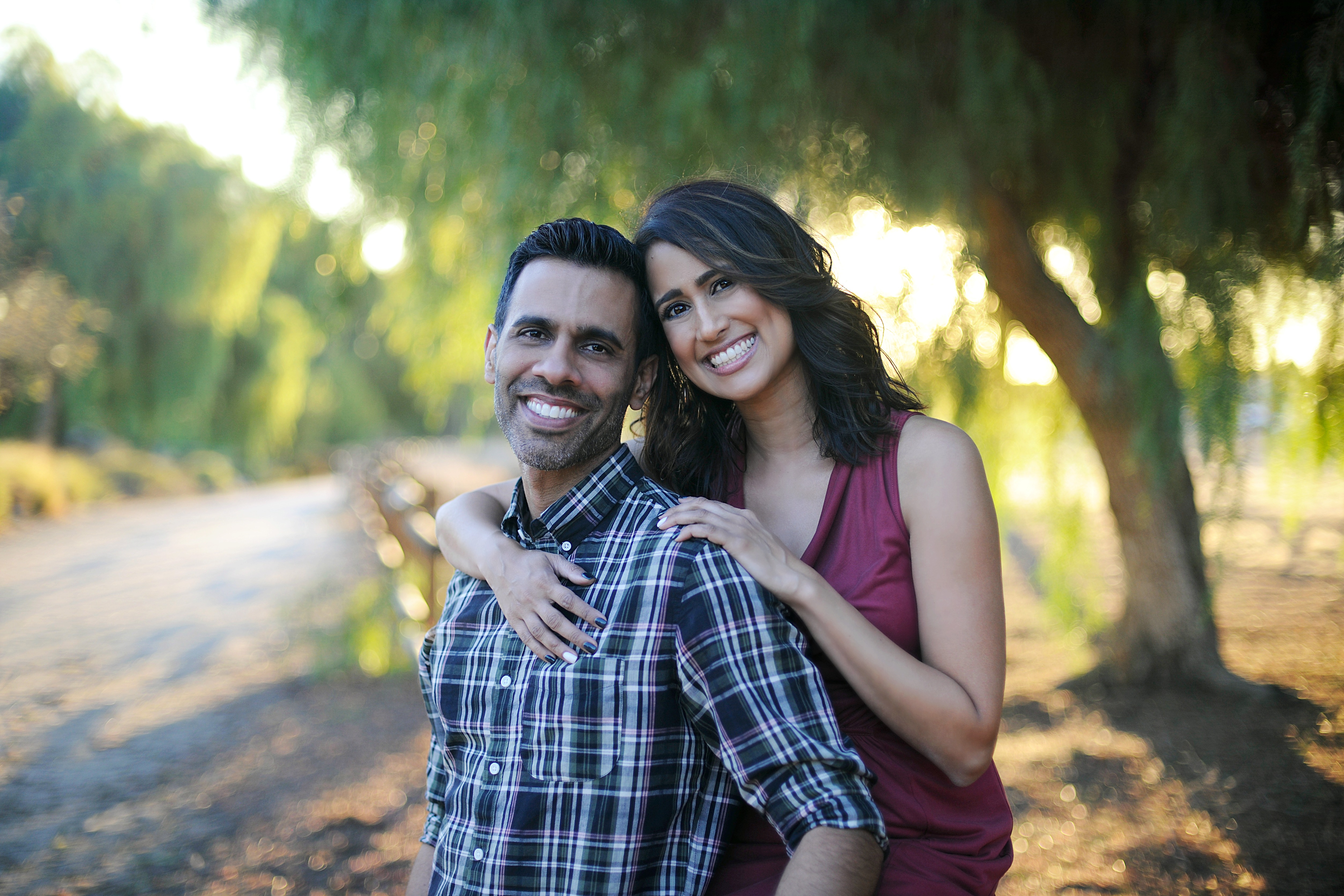 Jose and Lizette Trujillo
Jose and Lizette Trujillo are small business owners and community advocates for transgender youth and families. They spend much of their time volunteering in their local community, where they facilitate a support group for families of transgender, gender-creative, and gender non-conforming youth. They are now excited to serve on the Human Rights Campaign's Parents for Trans Equality Council. Jose and Lizette are proud parents to an 11-year-old trans child. Jose and Lizette have learned so much through their child's experience, and are committed to creating awareness and change around trans youth and their needs.
Adamalis Vigil
Adamalis Vigil is a nail salon owner from Palmview, Texas and the proud parent of three children, including her transgender daughter. Adamalis advocates for transgender inclusivity in both her personal life as the mother of a transgender daughter and in her professional life as the owner of a nail salon. In addition to regularly meeting with school leadership to address anti-transgender bullying her daughter faces, Adamalis' nail salon is listed on the Rio Grande Valley Resource List -- a list of local LGBTQ-friendly business -- and people from all over the Rio Grande Valley come to her business for their inclusive service. Adamalis has required all staff to be trained in gender inclusiveness to ensure all customers, especially LGBTQ customers, have a good experience at her salon. Adamalis firmly believes that having a trans child has made her a better person and hopes that with her actions and other actions of inclusivity in her community, there will be chain reactions of kindness, so that her daughter will have a better future.
We have great appreciation for our former and founding council members, including DeShanna Neal, Debi Jackson, Wayne Maines, Ofelia Barba, and Chris Williams.