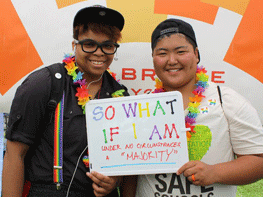 Post submitted by Kristan Clow, BSW, Youth and Community Outreach Manager of The Bridge for Youth.

In the days leading up to MLK Day of Serviceon January 20, HRC and its partners, including The Bridge, are working to increase national attention about LGBT youth homelessness through service activities in over 15 cities.

Stay tuned to the HRC Blog throughout January as our members, supporters, and allies share their stories about why they are participating in MLK Day of Service and the work that we are doing together.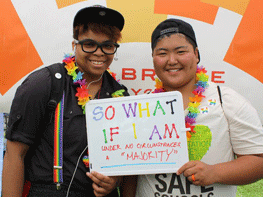 When I was hired at The Bridge for Youth in 2009 and read its two-page Diversity Statement in my handbook, I knew I was home (and was teary-eyed).
Reading the agency's Diversity Statement for the first time as a LGBT community member, I felt safe, affirmed, valued, and normal:
"The Bridge believes that sexual orientation is not a moral issue, and that gay, lesbian, bisexual and transgendered (GLBT) sexual orientation/gender identity is legitimate and healthy. GLBT people of all ages have the right to live without fear of persecution or discrimination. The Bridge will create an atmosphere that is supportive and non-judgmental of all individuals regardless of their sexual orientation/gender identity. We support efforts within the agency and the community to eliminate misunderstanding and fear regarding sexual orientation/gender identity. The Bridge is committed to challenging heterosexist assumptions and practices in all its programs and policies."
Today, when I explain the work that The Bridge does in our community, people ask, "But you're not a gay organization, so why focus so much on LGBTQ issues?" There is never a simple response.
Homelessness is a complex dilemma. Unfortunately, the LGBTQ community, especially those who are of color and transgender, are disproportionally represented in the reported numbers locally and nationally of those experiencing homelessness.
Since The Bridge opened in 1970, its mission has been to support youth in crisis. Crisis looks different for each youth and family who contacts us for help. We have been a safe place for nearly 40,000 youth.
As a response to the diverse and complex issues of homelessness, The Bridge has developed its own unique and welcoming culture. Our mission is at the core of our work, and staff, interns, and volunteers infuse the environment with their own unique contributions. Our employees come from all economic, educational, spiritual, and cultural backgrounds. Some employees have had family members access services, and some employees experienced homelessness themselves. Other staff have never known poverty or homelessness, but bring an open heart ready to help anyone who walks through our doors. We encourage and embrace learning from one another,r and value each other's voice as well as the youth and families we serve.
From my first nervous day working in The Bridge's Transitional Living Program until today, I am blown away by how amazing and committed the people here are to each other and to the community. A dedication to human dignity, and tireless efforts to meeting people in the intersections of their life when they need someone walk beside them, make The Bridge for Youth a leader, and I am proud to be a part of this work.
For more information on our services, please visit www.bridgeforyouth.org.
This January 20, please join HRC and The Bridge in the fight against LGBT youth homelessness. To join this event in the Twin Cities, please visit www.hrc.org/MLKTWINCITIES

And to find an MLK Day of Service event near you,visit http://www.hrc.org/campaigns/martin-luther-king-jr-day-of-service