MN Gov Fails Kids, But We Won't Stop Fighting For Them
May 29, 2009
Ed. Note: This post is from Ellen Kahn, director of the HRC Foundation's Family Project as part of the 4th annual Blogging for LGBT Families Day.
Minnesota Governor Tim Pawlenty must live in a bubble. Or maybe he exists in an alternate universe. How could he possibly veto a piece of legislation that protects children? How could he possibly believe the arguments made by the radical right claiming that somehow, a bill that protects all children and youth, will open the floodgates for the "homosexuals" to take over the lesson plans in schools, and to force our "lifestyle" on young, vulnerable children? Not only are his actions a devastating blow to all students in Minnesota, but a deeply felt insult to the thousands of fair-minded Minnesotans, gay and straight, Christian and Jew, Democrat and Republican, who worked tirelessly to support legislation that would give educators the tools they need to address all kinds of teasing, name-calling and harassment that takes place in their schools. My heart goes out to all the folks who were on the front line in MN, fighting every day to make this bill a reality, and I know you are not giving up. Pawlenty's actions only cause a temporary knock-out to the broad coalition of organizations, most of whom have long track records and significant expertise in education, who will get back up and keep fighting for what is right, and what is absolutely necessary for Minnesota's youth. It is particularly disturbing that Pawlenty's actions come on the heels of the recent tragedies in which two young boys, within days of one another and in different part s of our country, took their own lives because they could no longer tolerate the relentless bullying from their fellow students-bullying that in both cases was described as LGBT-biased (words like "gay," "fag," etc.). Any legislator who ignores this epidemic of bullying in our nation's schools-- much of which is surfacing in elementary schools --- is, at best, out of touch, but more likely, heartless. I challenge Governor Pawlenty to look the mothers of these two boys in the eye and tell them directly that he does not think teachers need training to help them become more effective at addressing bullying, and learning how to intervene when kids are being called "gay," or "fag." Tell any parent of a LGBT or questioning kid that it's too bad but we can't guarantee your child will be safe, or feel safe, in our schools because we don't want to treat any group like they are "special." We all know that a general, watered-down approach to addressing bullying does not work. It is not effective over the long-term to tell children "be nice," show respect," don't tease." Those are important values, and good messages, but if a school-based anti-bullying program does not provide specific education and discussion about the kinds of words that hurt and why, the ways in which children get marginalized, and if educators are not equipped to help children learn how to navigate and appreciate a diverse community, the program will fail. We need effective, inclusive anti-bullying programs, beginning in elementary school, that create the kind of school environments that optimize the opportunity for all students to focus on their academic activities, to participate fully and freely in the school community, to have friends and peers who are supportive. Not only do we need this good legislation in Minnesota-and I suspect that will happen-but we need it as a national standard, so that every school pays attention to anti-LGBT bullying and harassment, as well as bullying based on physical attributes, religion, neighborhood, ethnicity, etc. We adults can't put our heads in the sand while our children try to fend off their attackers in the school hallways, cafeterias and classrooms. We are in charge here, and all of us, whether we're parents or not, educators or not, have a responsibility to provide safety and security to all children. Pawlenty failed, but there are lots of us who know what's right. Let's keep working on it. Support safe schools legislation that is LGBT inclusive, support an attempt to pass a federal safe schools bill that would enumerate protected categories, including sexual orientation and gender identity.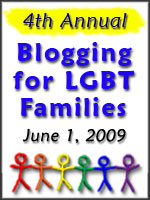 Learn more about Blogging for LGBT Families Day.